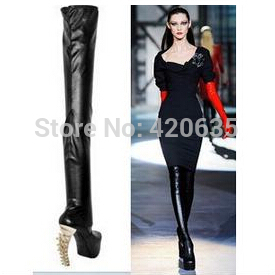 Overview
Heel spurs are a relatively common cause of heel pain. A heel spur is a pointed bone fragment that extends forward from the bottom of the heel from the heel bone, also referred to as a calcaneous. Serious pain and discomfort often develops with this condition. In many cases, a heel spur develops along with plantar fasciitis which occurs when the plantar fascia ligament becomes inflamed.
Causes
This condition is a constellation of many causes; overweight, ill fitting shoes, bio-mechanical problems (mal-alignment of the heel), gout, pronation (a complex motion including outward rotation of the heel and inward rotation of the ankle) and rheumatoid arthritis are some of the causes of heel pain.
Symptoms
An individual with the lower legs turning inward, a condition called genu valgus or "knock knees," can have a tendency toward excessive pronation. This can lead to a fallen arch and problems with the plantar fascia and heel spurs. Women tend to suffer from this condition more than men. Heel spurs can also result from an abnormally high arch. Other factors leading to heel spurs include a sudden increase in daily activities, an increase in weight, or a thinner cushion on the bottom of the heel due to old age. A significant increase in training intensity or duration may cause inflammation of the plantar fascia. High-heeled shoes, improperly fitted shoes, and shoes that are too flexible in the middle of the arch or bend before the toe joints will cause problems with the plantar fascia and possibly lead to heel spurs.
Diagnosis
Diagnosis of a heel spur can be done with an x-ray, which will be able to reveal the bony spur. Normally, it occurs where the plantar fascia connects to the heel bone. When the plantar fascia ligament is pulled excessively it begins to pull away from the heel bone. When this excessive pulling occurs, it causes the body to respond by depositing calcium in the injured area, resulting in the formation of the bone spur. The Plantar fascia ligament is a fibrous band of connective tissue running between the heel bone and the ball of the foot. This structure maintains the arch of the foot and distributes weight along the foot as we walk. However, due to the stress that this ligament must endure, it can easily become damaged which commonly occurs along with heel spurs.
Non Surgical Treatment
The majority of heel spurs are treated with non-surgical interventions. These can relieve pain, but may take from about 3 months to up to a year for symptoms to resolve. Rest, icing, and over-the-counter anti-inflammatory or prescription medications can help ease symptoms. Cortisone injections may also be used. Physical therapists may instruct you to perform stretching exercises to help relax the tissues in the heel. Your doctor may recommend custom orthotics or shoe inserts to position and cushion your heel. Night splints can help position the heel and arch of the foot while you sleep. Some doctors may recommend extracorporeal shock wave therapy (ESWT). This treatment uses energy pulses to start the repair process in the heel tissues. ESWT is recommend when other non-surgical treatments have failed.
Surgical Treatment
Sometimes bone spurs can be surgically removed or an operation to loosen the fascia, called a plantar fascia release can be performed. This surgery is about 80 percent effective in the small group of individuals who do not have relief with conservative treatment, but symptoms may return if preventative measures (wearing proper footwear, shoe inserts, stretching, etc) are not maintained.
Prevention
Prevention of heel spur syndrome may be best by finding a good supportive shoe. Never go barefoot or wear a flat soled shoe. There are many over the counter arch supports that give increased support for your feet. Usually when there is excessive pronation the Achilles Tendon contracts or becomes shortened over time since it is not being used fully. The shortened Achilles Tendon is called an equinus deformity. By keeping this tendon stretched it may decrease some of the tension in the foot. Some theories believe the Achilles Tendon and plantar fascia is continuous. Before you get up from rest, stretch out your Achilles and the plantar fascia. You may attempt to spell the alphabet with your foot and ankle, use a towel against pressure on your foot, or roll a can of soup or sodapop on the ground. Ice may work well at the times of severe pain. For a chronic pain, or longer lasting pain heat therapy may improve the condition.